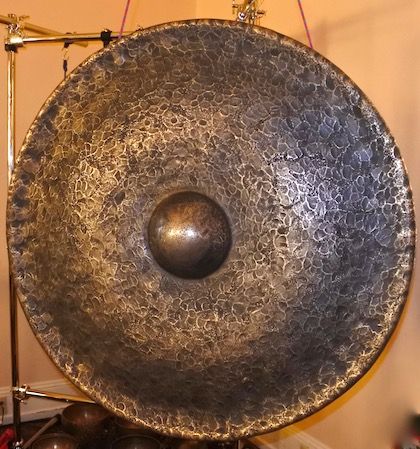 Burmese Nipple Gong Concert Pitch B1
Hand Forged, Hand Hammered, and Hand Tuned Bronze. These Gongs are stellar for live sound healing performances or private sound therapy session work. They are within 5 cents of concert pitch. The Gong pictured is the note B in the first octave and the Gong is about 35" in diameter. This is a special order item direct from Burma and takes 30 to 45 days to make and ship, Take your 'gong bath' or live performance to a totally different level by introducing 'rhythm' to the mix. These Gongs are also available in G1 (30Hz), A1, and can be married into 5th harmonic sets. B1 with F# or C and G for example. Feedback from people using these unique Sound Therapy Gongs ranges from 'amazing to unbelievable.' We order these 3 at a time, to keep pricing and shipping respectable. The large Gongs are only made during the cooler months of the year.
Email for pricing details.
* A note regarding the sound files below, you require a good sound system. Internal computer speakers are not adequate enough to handle the complex textures of these gongs.